STAYPUT / SEMI-RIGID HOSES
For more than 70 years, Abeillon has been industrializing and manufacturing flexible gooseneck for various industries with needs in support, protection and fixed positioning in space, control devices, visualization or any other type of device.
Read more
FLEXIBLE GOOSENECK APPLICATIONS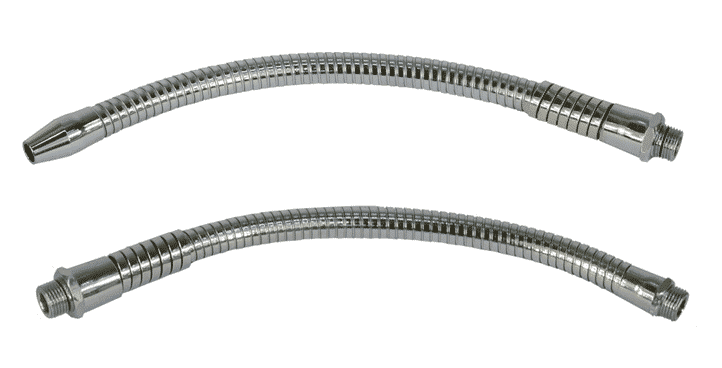 ABEILLON is the designer and manufacturer of FLEXIJET® (Stayput hoses for machine tools lubrication). These FLEXIJET® are semi-rigid, waterproof and resistant.
Read more
Contact
Our address
28 rue Rochebrune,
93100 MONTREUIL,
France
Mechanical supports for control, display, communication or even watering devices which must allow reading, orientating or operating in the spatial position appropriate to each situation. In some cases, a flexible support must also provide protection from shocks.
All these guarantees do exist, and at a reasonable cost. Abeillon is a semi-rigid hoses expert.
Stayput hose technology, more commonly referred to as shape memory hose or flexible gooseneck technologies, offers a wide range of support and mechanical holding solutions. As expert in flexible gooseneck, ABEILLON, has been designing and offering its customers tailor-made hoses on a case-by-case basis for several decades.
The manufacturing expertise of semi-rigid hoses uses a specially adapted and fully controlled industrial tool. Our teams and partners implement advanced processes:
– welding,
– crimping,
– forming,
– cutting,
– machining,
– assembly,
– painting
– surface treatment,
– spring manufacture,
with renowned design know-how.
ABEILLON mechanical supports combine flexible gooseneck and mechanical components.
ABEILLON produces or uses mechanical components such as:
– male or female threaded ends
– male or female threaded couplings in various outside or inside diameters,
– rigid tubes,
– threaded rods,
– connectors,
– reinforcements,
– collars,
– seals,
– sleeves,
– unions,
– coatings of different grades,
– flexible hoses, through flexible hoses,
– fittings with oblong cable entry holes,
– a wide range of retaining or positioning accessories,
– magnetic suction cups,
– diameter adapters,
– brackets,
– sockets,
– articulated or swivel connections,
– plates,
– adjustable rolling feet,
– fixing and clamping accessories,
– manual gripping handles,
– electrical components,
All these specialized products and parts address the needs of many customers in a wide range of industries.
In the audio and radio sector, semi-rigid hoses may support a microphone, so that the position in space can be adjusted while connecting them to the headset or desk or table respectively.
In the medical world, semi-rigid flexible supports carry display screens or operating devices from a medical bed, or any other medical device and medical equipment being used.
In occupational therapy and for the needs of the disabled and dependent, their functions hinge around connection to the wheelchair armrest,
In the lighting sector, semi-rigid hoses support, supply and direct lamps of different technologies to suit the needs of the user.
In the electromagnetic field, semi-rigid flexible hose supports direct or protect omnidirectional antennas in the HF to UHF frequency bands,
In the area of fluids, semi-rigid hoses are adapted to for direct the discharging of coolants or lubricants, or domestic water.
To address all these needs, ABEILLON is skilled in material transformation and in the integration of countless components (springs, wires, end caps, strip blades, sheaths, screws, tubes) of metallic materials like steel, stainless steel, galvanized or copper plated steel, brass, aluminium, thermoplastics.
ABEILLON produces custom designs on request that can also be based on customer drawings. There are also several standard product ranges under the company's own brand. Discover our standard products such as medical examination lamps, chart table reading lamps, mobile antenna flexible holders, flexible screen supports, fluid ejection hoses and our range of mounting accessories (durable universal holders).